Discussion Starter
·
#1
·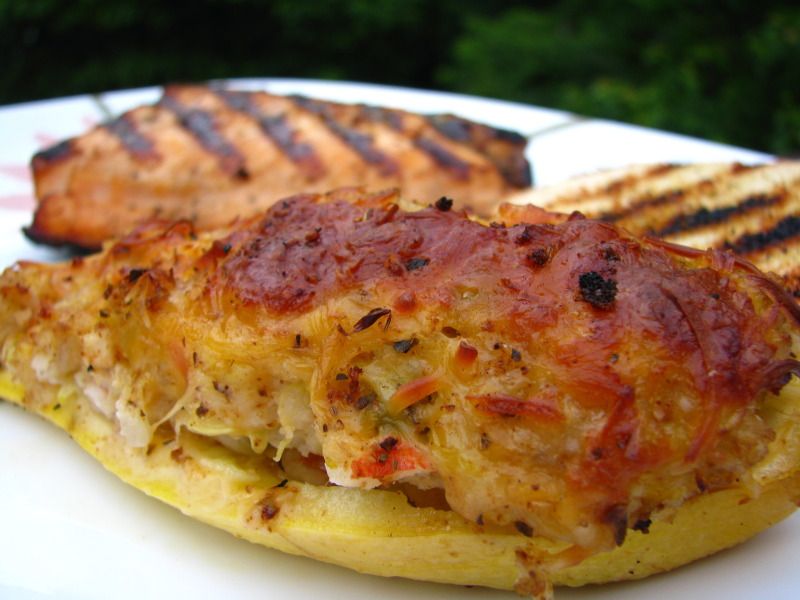 Lots of summer time backyard gardens out there will soon be yielding the fruits (and vegetables!) of our labor, so I felt it appropriate to try and come up with some good grilled vegetable recipes. These crab stuffed squash make a great side dish, or could be eaten as a meal!
What you'll need:
Medium to large size yellow
squash, or you could substitute zucchini
1/4 cup finely chopped onion
1/4 cup finely chopped bell pepper
1/4 cup finely chopped celery
1 cup whole grain rice, cooked
Bread crumbs
1/4 cup shredded crab meat (you can
use imitation crab)
Shredded mozzarella cheese, or
cheddar, or both
Cajun seasoning
Olive oil
After rinsing the squash, cut them in half lengthwise and carefully scoop out the
middle, leaving about 1/8 inch to help maintain stability. Bring a pan of water
to a low rolling boil, place the scooped out squash in the water and let boil
slowly for about 5 minutes, stirring a couple of times. Lightly sauté the
onion, bell pepper and celery in olive oil until they just start to soften. You
can do this on the stove, but I prefer to place the vegetables in grill safe
pan and sauté them on the grill while my main course is cooking on the grill as
well. Strain the water from the boiled squash and add it to
the trinity, mixing thoroughly. Add the rice and stir to mix thoroughly again.
Remove from the heat and place the mixture in a large bowl. Allow the mixture
to cool slightly, then add the crab meat. Stir in bread crumbs, such as Panko
style, and continue to stir the mixture. Add the bread crumbs a little at a
time until you have a sticky consistency. Season the mixture with the Cajun
seasoning and mix well so that the seasoning is blended throughout the layers
of the mixture. Lightly brush the bottom side of the carved out squash shells
with olive and spoon the mixture into each shell, taking care not to overfill.
Top each shell off with some shredded cheese and sprinkle another dash of Cajun
seasoning on top.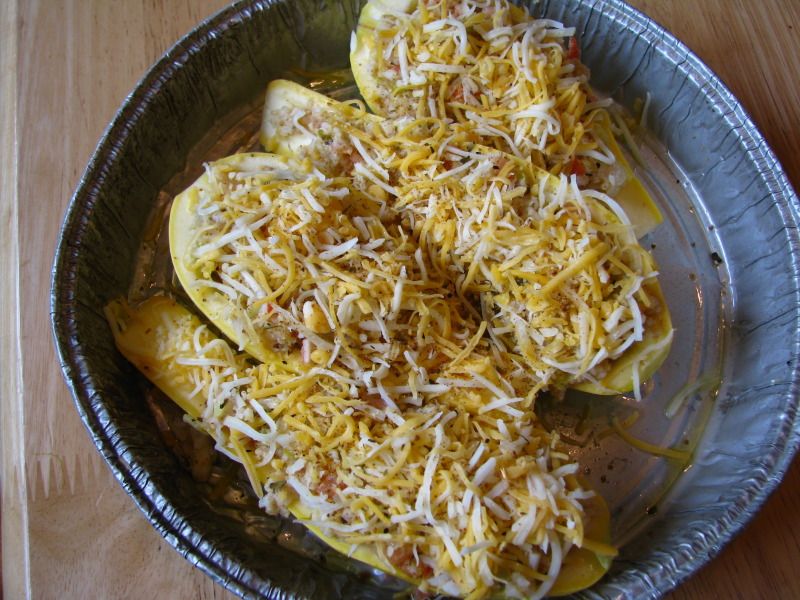 Place the stuffed squash in a grill safe pan and place on the
grill, opposite the flame or coals and close the lid. Let the squash bake for 5
to 10 minutes, depending on the temperature of your grill, or until the cheese
melts and starts to get a slight crust. Serve each squash individually on the
side or as an appetizer, or even as a light meal in itself!