Well looks like we are going to have some great weather to get the kids out fishing and from the reports there should be plenty of fish biting to keep them happy. We are fully stocked on Emerlads, Spikes, Waxworms, Wigglers, Mousees, Suckers which included live decoy Suckers. Machines are starting to be come a regular site in the popualar areas, like the day sail and Geno's.
Also don't forget we are running a Muilt-Speices Contest which is totally free and requiers no sign up. All you have to do is catch the fish on Lake St. Clair and bring it by to be weighted in. There are 6 speieces that we are keeping track of for this contest. Perch, Sunfish(Bluegills, Seeds, and Hybrids) Crappie, Rock Bass, Walleye and Pike. The contest ends March 1st stop by the shop for full details of check out this thread.
http://www.michigan-sportsman.com/forum/showthread.php?t=527350
Perch:
Some guys have begun to spear in areas. The water will clear up some everyday from here on out since the whole lake is locked up. Try #3 Jigin Minnow, ZT Minnows, Jigging Raps, Kens, Mark's Willow and Ice Tiger Spoons. Live Wigglers and Minnows have also be productive.
Here is the newest color in the Ice Tiger Bead Spoons they are selling fast.
Try Shallow early if you are away from the pack. Or try 5 to 7 FOW else where. The whole bay has been good for numbers keep moving until you find the quailty you are looking for.
Gill, Sunnies and Crappies
The canals, marinas and main lake cabbage beds are the best areas to look. Try Tungsten Jigs tipped with a Versa-Mite, Nuggie, or live bait such has spikes, waxies, and mousees.
Heavy Metal Pro Series Tungsten Jigs in the fishes mouth
The new Heavy Metal Bull Killer getting it done!
Walleye:
A few reports of walleye coming out in 5 to 8 FOW off the point of metro, Jigging Raps, Jigin Minnow, Shiver Minnows and the ZT minnows are working for those that have been targeting them. Those that have been fishing perch in that area have also caught them on larger bead spoons.
ZT MINNOW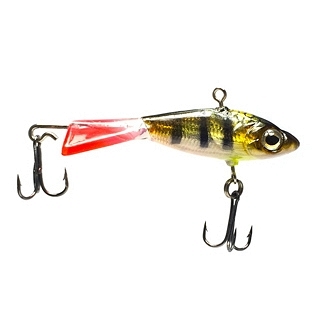 Pike:
We did just get some really nice Decoy Suckers in for those wanting to spear pike. They are up to 15 inches long. We also have wood decoys and decoy pins in stock. We just got reloaded on tip-ups alsol. I have see a few cell phone pics of some nice pike caught up to 34 inches and one 49 inch Muskie that a guy caught.