Discussion Starter
·
#1
·
My buddy (flockshot) and I did a little spearing today. He hasn't shafted many fish and has never taken a limit. I told him we'd check that off his list today.
We got to the lake before light. I only had to dodge 3 shots from angry lakefront residents from running my chainsaw at 645am.
We still had 20 minutes of darkness after the shanty was all set and we settled in. 7 foot of cloudy water. Good weed towers very close to our hole. Kinda reminded me of getting to my deer stand FAR before shooting light. Relaxing.
The first fish paid our 12" chub a visit at 830. flockshot shanked the 26" male in short order.
After the silt settled, IT WAS ON! We saw 5 different fish between 830 and 10. All were between 25 and 28". I handed off the spear when it was my turn so Adam could complete his limit. He took a plump female to bag his first full creel!
The sun was a welcome sight and it warmed the Ameristep shanty up to 55 degrees in no time.
No big guys paid us a visit today, and we called it a wrap at 1030.
We had some fun with the fish though, as I teased one up to the hole with the deke and snached it with my hands. I don't think he'll be approaching any giant black holes in the ice any time soon...
Here's some pics and vids from today:
Sneakin in:
Smellin the goods: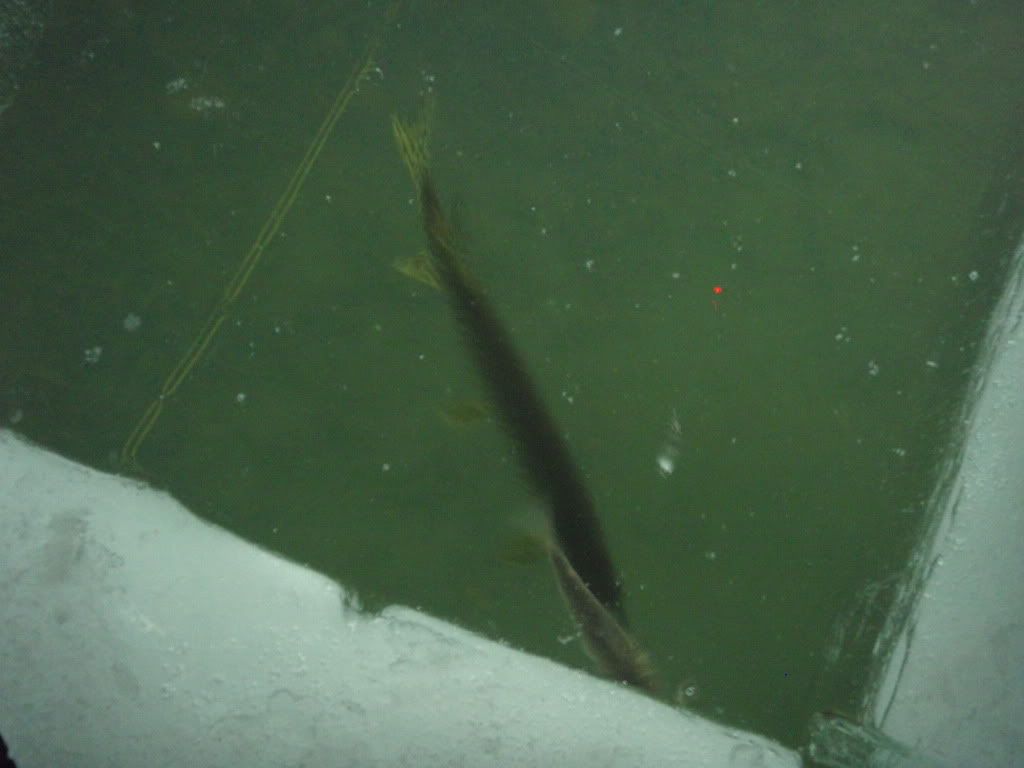 Messin with sasquatch:
[ame="http://s252.photobucket.com/albums/hh38/JCrean/?action=view&current=pikewoot3.mp4"]pikewoot3.mp4 video by JCrean - Photobucket[/ame]
Adams (flockshot) first limit!!!
Only gonna get better for the next 3 weeks before season closes!