Discussion Starter
•
#1
•
I went out to eastern Wyoming this year to rifle hunt for Mule Deer and Antelope. It was a "tresspass fee" type hunt, with a trophy fee if you took a deer. Quite a bit cheaper than some of the guided hunts I've been on, and we had the run of 110,000 acres! It was my first time at this place, but I was with a friend who has hunted there the last few years and seen some really nice bucks.
We left on Sept 27th when I got out of work and arrived early afternoon of the 28th at the ranch. That gave us time to set up camp and 2 full days to scout before the opener on Oct 1st. My buddy (Mike) took me to the spot where he had seen many deer the prior year at daybreak for some scouting. He was surprised to not see any deer in the area where he had been seeing them last year. All we could figure is that with the good rainfall they had this year the deer didn't have to move as much to get food. We drove up on top of the "hill", where it is flat and grassy. We got out and walked up to the edge of a draw and there was a nice young 4x4 looking at us. That was encouraging. I took off on foot and worked down the eastern edge of the top. There were essentially breaks that ran down to sage flats on the bottom. The second draw I came to I kicked up a buck with an odd shaped rack. I was moving up to the edge to get a better look at him when a really nice buck busted out from under the lip by a sage bush. He ran out a hundred yards and stopped to see what bothered him. I took a good look at him and knew he was a shooter in my book. Now I was really feeling good about things. Spotted a shooter in the first hour of scouting and the antelope were everywhere.
We spent that afternoon and the next day doing quite a bit more scouting. We saw a group of 4 bucks in one bunch that were all shooters for me, as well as a couple of others that were pretty darned good too. My partner was a little disappointed because I guess we weren't seeing nearly as many as he did the prior year, but we saw an easy 30 bucks in those two days of scouting. I was fired up and ready to go. That evening we put on a big walleye fry for the ranch hands and their families. I spent three hours frying fish, hushpuppies and fries while my bud ran them back and forth up to the ranch house. The kids came and asked me a million questions. I was quite impressed with the work ethic and respect instilled in these kids at a very young age. They live a very different lifestyle out there.
Here is a shot of some of the terrain we would be hunting, complete with a bunch of deer.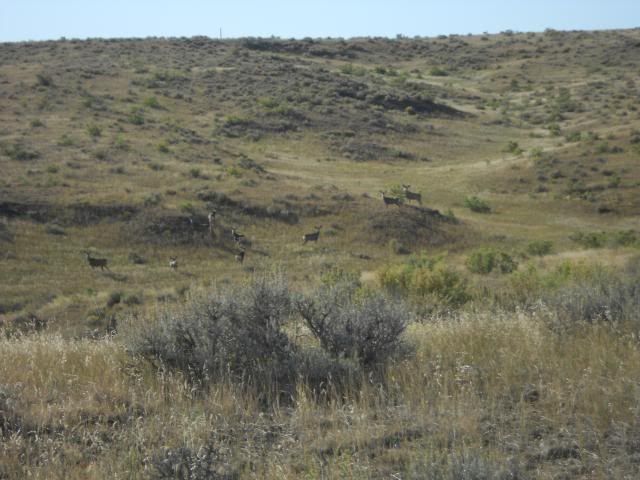 Mike decided he wanted to hunt in the area he took his buck last year, even though he only saw a few marginal deer in that area. He figured they were around and might show up anyway. We were holding off on a couple of the other spots we had found some good bucks. I decided to hunt the draws where I spotted the nice buck on the first morning. So we head out at O dark 30 and drive up on top of the hill. We each gather up our gear and head in different directions. I would hunt the East face and he the South.
I walked about 400 yards North of the truck and decided to just stand there and wait for daylight before making any kind of moves over the edge. I wasn't sure exactly where I was and I didn't want to go bumping anything trying to figure it out in the dark. As daylight approached I thought I saw something moving out on the edge of the flat. Then I noticed some car lights in the distance and figured it must have just been that. I was looking at the stars and just enjoying being out there and soaking it up. As it got a little bit lighter I thought I saw something again where I saw it before. I pulled up my binos and sure enough there were some deer standing there. About 5 minutes later it was light enough that I could tell they were all bucks, 8 of them in all. I got down on my knees and laid down in the grass and short sage, doing my best to avoid the cactus. I kept on glassing and looking through my scope, but it was just too dark to make out how good any of them were.
The deer all started working their way out onto the flat to the West, not what I was expecting them to do at all. As much as I tried to judge them, I just couldn't see well enough. This went on for at least 10 to 15 minutes, although it seemed like hours. I was starting to see well enough to tell that some of them were pretty good, but when they would change positions it was very hard to sort them out. A couple started leading out to the west pretty good. They both had pretty good sized bodies on them but I just couldn't see the racks well at all. The 6 lagging behing were following, but not as quickly. I was glassing all over, scooting around to stay in position and hoping for it to get lighter!
Just as the light was getting good enough to see better, four of the group ran out toward the two leading the way. I had ranged them at 202 yards when they were directly in front of me. The two were still there and the others were far enough to my left that I couldn't see what they were doing. I put the scope on the two remaining deer. I could tell that one was pretty tall, but he didn't have much going on. It almost looked like he may have still had some velvet on his antlers. The other had at least one good fork that I could see and his body looked big. Right about then he turned toward me and I could see that he was at least as wide as his ears. I figured if I was going to shoot I had better do it now, because I figured they would run off to join the group at any minute. I put the crosshairs of my .270 behind the shoulder and squeezed. Bang, whoomp! Dropped in his tracks. Talk about a quick hunt!
As it turns out my buddy had come back up on top to make a move when he spotted the deer out there. He didn't realize I was laying down in the grass. He was wondering how they had gotten by me and was trying to figure out how to make a move on them. At least until I shot he was! Turned out to be a decent 3X4. 24" wide with no brow points.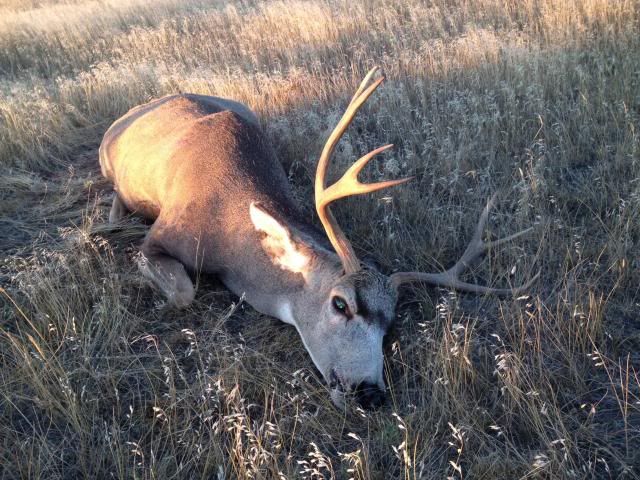 That afternoon Mike took this nice Antelope.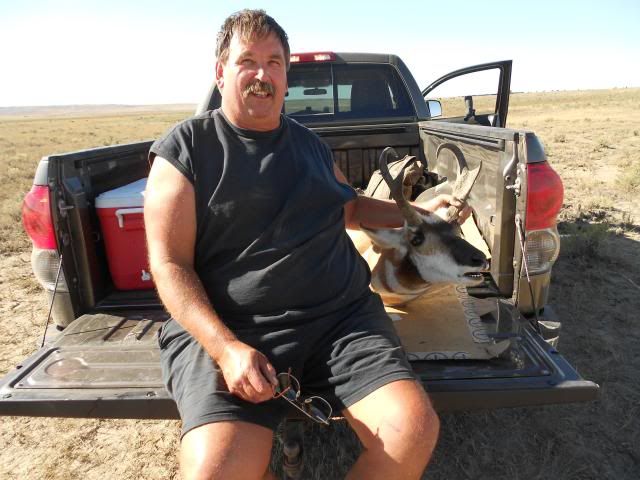 The next morning I took my Antelope.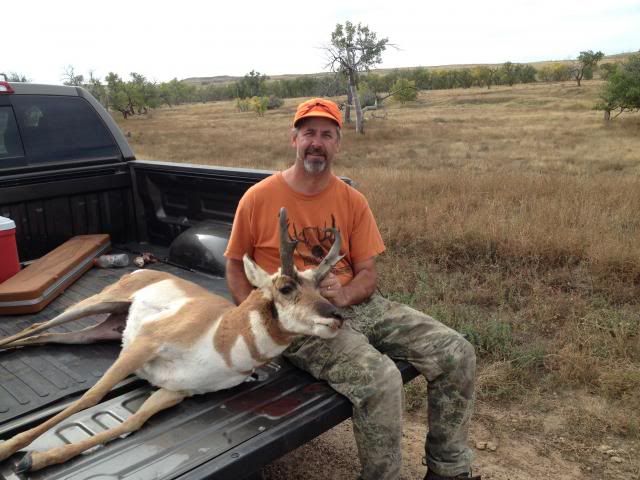 Then the second afternoon Mike took his buck. Another guy and I actually worked around the bottom and up through a draw, pushing this buck right to Mike. It was in the draw where we saw the first little 4x4 on the first morning. I'm reasonably sure it's the same deer I jumped out of the next draw.
It was a really good time. Lots of land to explore and it's nice to see some different country. I hope to return next year and get one of those bigger bucks we saw. One was a very high and wide 4x4 with a kicker of his right rear fork. He would look awesome on my wall, but he is pretty where his for now!