Discussion Starter
•
#1
•
Let me start off by saying I have already made my choice between fixed blades and mechanical, and obviously I picked a Rage. This is not to start a debate of which is better, you all have your own opinions as do I. Its is to document a mishap I had today with a Rage practice tip. This mishap was ENTIRELY my fault and in no way had anything to do with the head its self.
I had my first practice session today with the Hypodermic practice heads. First off I shot the practice head, and a broad head at 20 yards to ensure that both flew the same. They do indeed as the practice head tipped the broad head equipped arrow and broke the nock. I also noted that the both arrows were 2 inches lower than my field tip point of impact.
I stepped back to 30 yards and launched the practice head equipped arrow and it hit 3 inches low at 30 yards. I repeated the 30 yard shot several time with consistent results, 3 inches low and slightly to the right. By slightly I didn't consider it enough to adjust sights especially seeing the cross wind I was shooting in.
I stepped back to 50 yards and let the arrow fly. I used Kentucky wind-age assuming the point of impact to be 5 inches lower than my field tips. This was indeed the case. Wind-age was for the most part unaffected. Pulling the arrow from the target I moved back to my 50 yard marker to shoot again. This time I had a brain fart and forgot to use Kentucky wind-age. I released the arrow to hear a horrible THWACK. The practice tip had stuck a piece of wood I was using to hold the target up.
This is where it gets interesting to me. The arrow struck the wood at an almost exact 45 degree angle.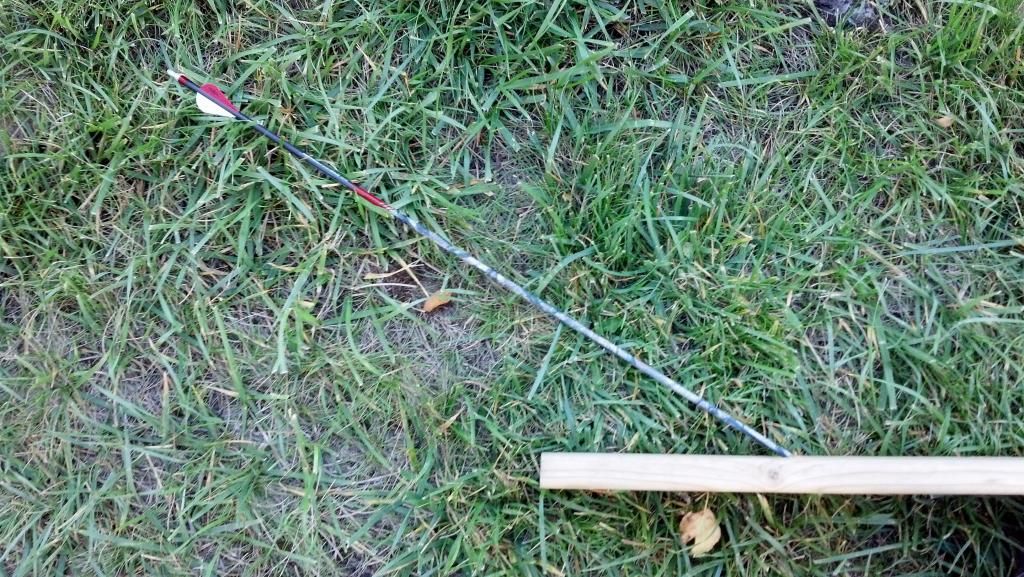 As you can see, the entire tip was stuck in the wood. Taking the opportunity to check out the durability of the ferrule. Being unable to pull the tip out by hand, I took the drill to the wood and started to work it out.
Upon retrieval of the head and closer inspection, I found that it was TOTALLY UNDAMAGED. It wasn't bent, twisted or warped in anyway. Here are some pictures after the practice head was removed from the wood.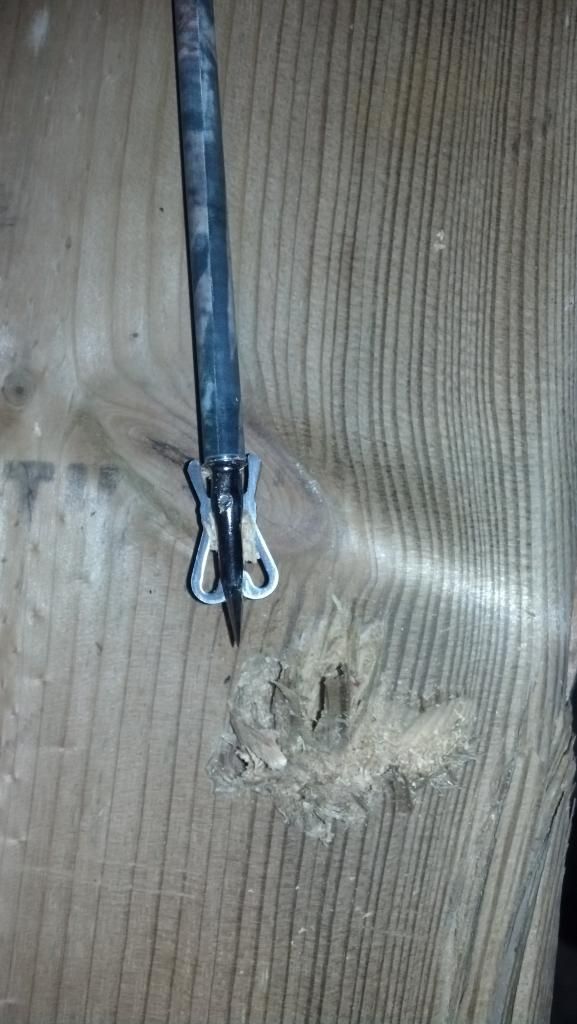 Note: I was impressed that the practice head was intact. I don't believe in all the tests that people use broadheads on barrels, wood or any other material. I believe in what a broadhead does to an ANIMAL during hunting conditions. I only posted this to show the durability of the ferrule. I know that if that were the actual broadhead that the blades would be junk, and I am ok with that.
I was curious as to how this tip would do in a quartering shot on a deer or bear. I believe it speaks for its self. I will be using these confidently on deer this year, and if they do as well as I hope, I will be using them on bear in Canada next fall.