Discussion Starter
·
#1
·
I have an engine problem and dont know too much about turning wrenches inside them. Yeah, yeah, I know Im in the Coast Guard but I dont work on engines. So here it is. When I run my motor Im having the gas oil mix come out of the engine in the pics down below. Where you see the yellow arrows is where I believe it is coming from. Also when I engage the motor and come up on plain at almost full throttle she stalls out. Like she's sucking air or not getting fuel. Hence the fuel that you see in the pics below. My question is does anyone know what this may be and how to fix it? Any help would be thankful. Engine is a mid 80's Mariner 60hp and the problem is on the port side of the engine.
Jeremy
Heres my little baby!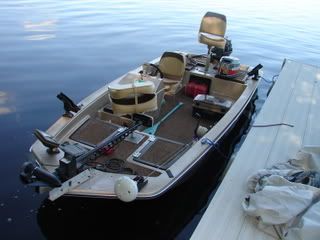 Here's the motor with trouble area!
Another engine shot. See the oil gas residue in there?
Port side of outboard