It appears that some folks are confused about "edge feathering", what it does, what it looks like and how it can used for a number of positive things at once.
In some areas edge feathering is done to promote quail habitat and perhaps is done a little differently. If one has good quality marketable oak trees or a nice screening edge of conifers...EF is not something you would want to use in those cases.
When I edge feather, I do hinge cut and tip over virtually every tree along the edge of the field. I attempt to tip them parallel to the field but if they fall into the field, I use my tractor and loader and swing them around parallel.
When I'm done I go back and block any small openings with cut brush, old pallets, old rolls of woven wire or anything else I can scavenge. All of this grows up into an impenetrable screening jungle that deer cannot see thru nor walk thru.
Before EF, deer could see thru the standing trees and they came out into the field via a 1/2 dozen runways.
After EF they now use only one runway and if you back up a bit you can see the TC pics of just a few that now use it exclusively.
NONE of this is or ever will be bedding, it would be impossible for them to bed in the nasty "living fence" I create with EF.
Deer feed on the edge browse (have you forgotten that deer are creatures of the edge?
) they follow the edge feeding on the new growth straight to the only runway...like a puppy on a string...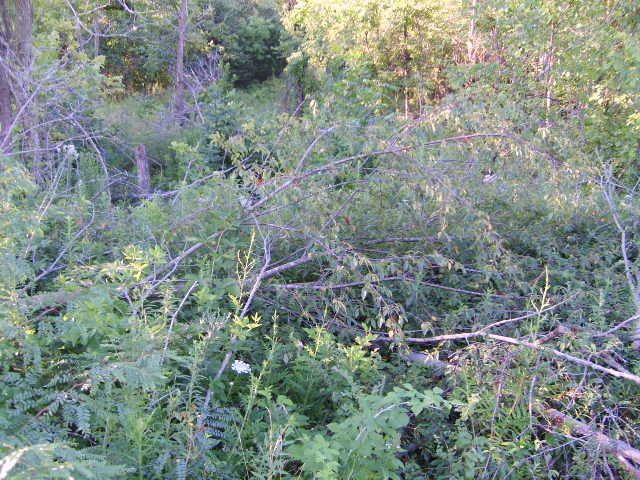 Edge feathering is not bedding unless of course one doesn't use some common sense and allows the trees to fall helter skelter. Our fields are all crop fields so of course we don't want trees laying out in the field.
Where ever I can I save small cedars or interplant them amongst the tops so that in time they will also add to the screening effect.
Tons more pictures in the EF/bedding thread on IW of course but hopefully this is starting to make sense. That thread covers all types of hinge cutting "adventures" and they are all intertwined to create screens, new browse, bedding areas and bottlenecks.
That means the pictures you see are from various parts of my farms, edges, deep on the timber, pinch points..etc.
Lot's that one can accomplish with a chainsaw and I can assure you...this ole boy doesn't have deer just walking out just
anywhere
....thanks to properly done edgefeathering...