Well first off I have to throw out a HUGE thank you to November Sunrise. This is one heckuva man. He spent the weekend coordinating a half doz kids and their adult partners during this years youth hunt. My son and I were fortunate to be one of the luck recipients of this mans generosity and graciousness. He's definitely one of the kindest men I have ever met. Thanks Jeff, I owe you BIG.
Now on to the hunt.
My son David has been in stand with me in the past but has never actually hunted until this weekend. And it started out with a ton of action. Shortly after getting into our buddy ladder stand, a doe comes walking out of the cornfield about 100 yards away and slowly begins her meandering walk down a two track that skirts the woods we are sitting in. This went on from just after shooting light til about 8 am. Always just outside of my sons self imposed shooting range.
After she ambled off into parts unknown, we had a set of twin yearlings decide to tempt their fate by walking right behind and under the stand. These little rascals presented shots that were tempting by standing less than 20 yards away for what seemed like an eternity. But my son allowed them a pass on life for at least a little while longer opting for an opportunity at a larger deer. And it wasn't too much longer until his patience paid off.
At about 8:45 I was standing up to stretch when my son starts urgently whispering, "Buck, buck, buck". So I slowly sit back down and sure enough, a half racked buck we've seen on camera is making a beeline path to one of our main shooting lanes. My sons got him in his sights the entire way and I whisper to him "Be patient and wait for the right moment" which he certainly tried to do but the excitement of the moment got to him and he let off a premature shot which unfortunately missed and had Mr. Half-rack busting loose for the county line. Here's the deer we're pretty sure he shot at: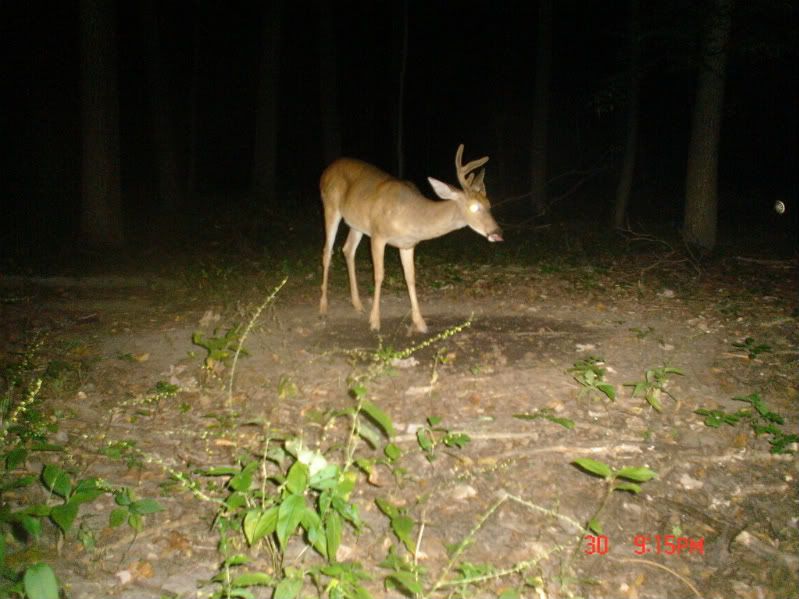 We then left the stand to meet up with the rest of our part and find out from November Sunrise that one of the youths connected on a doe!! Congrats were given all around to this young lady while we waited to recover her prize. And sure enough, they found her with a perfect shot right through the killzone. Couldn't have found a happier young lady in all the world as she told her story. Her smile is burned in my memory as I'm sure it is in everyones mind that witnessed her joy that morning. Well done Veronica!!
November Sunrise then decided to up the opportunity level for both our sons and did a drive with the help of Veronica and her little brother Tanner that pushed out a couple of does. One ran right to where my son and I were sitting and gave my son a chance at another deer. Unfortunately he took aim and didn't consider the angle we were at nor the distance that doe stood from us and missed cleanly. He loaded the gun with another shell and the noise unfortunately spooked the doe into a run that left a less than desirable shot that he missed cleanly yet again. His disappointment was evident and with the help of everyone involved we lifted his spirits by passing on our own stories missed deer. That appeared to lift his confidence some and we returned to the stand with hopes of getting another chance.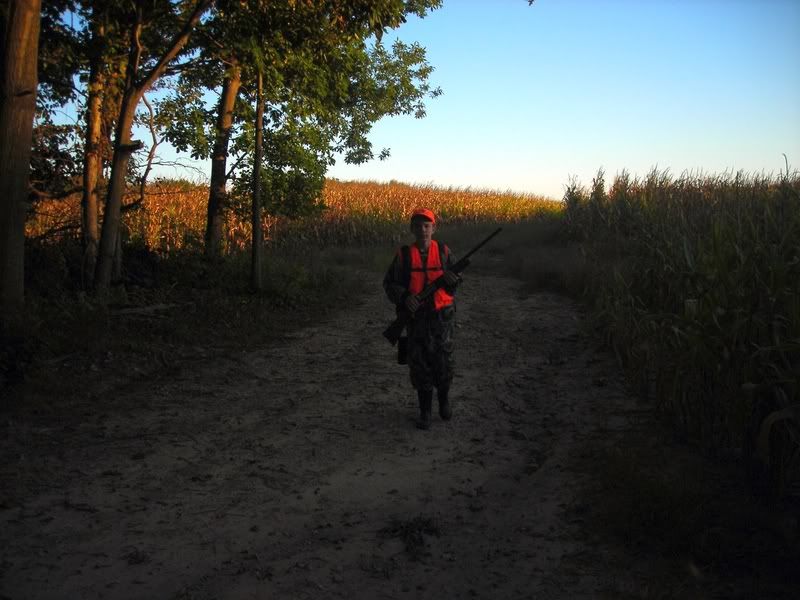 That afternoon we had does buzzing around us although they kept their travels to places he couldn't get a shot off. But he was seeing deer and his excitement once again returned for hunting. He didn't get an opportunity for a shot that afternoon so we decided to stay the night and try again Sunday morning.
That night we spent talking about what transpired that day and he was determined to make it happen if given another opportunity. He was like a seasoned veteran as we discussed what happened and talked about how to let it go and strive for a better result. I couldn't have been prouder of this 14 year old as he said "Dad, I blew it, but it won't happen again!!" Instead of getting down on himself he took it as an opportunity to learn and make it better. I may have had a tear in my eye from the maturity I saw in my little man that night.
The next morning was something special. As we made our way to the stand my son looked at me and says, "Dad, we're walking too fast, the deer might hear us!!". I agreed and told him "Take point and I'll follow you." With a beaming pride in my sons determination we proceeded our stealthy walk towards our stand. And he was as silent as a ghost as we made our way. And it paid off somewhat when we broke through the woods and he shined a doe that was standing right under our stand. We stood there and waited for that doe to wander off and I could sense the excitement that he had in knowing that he could indeed sneak up on a deer. I think it was at that very moment that my son became a "hunter". He saw just what it takes to be successful even though it was still way too early to shoot. These are the defining moments that we've all had that take us to that next level. And my son had his first hunting epiphany.
That morning went off with little action with only a single doe making an appearance during daylight hours, but it was one of the best mornings I've ever had hunting. My son became a hunter and that's more successful than any deer harvest.