Discussion Starter
·
#1
·
So as every weekend Jenn and I went to our fav. fishing hole to sit back and relax and possibly catch some fish. After getting BLANKED friday night we did not have high hopes for it but none the less we went.
We get to kollens park and the shore is FULL of people, this always makes for a intresting night.
I get the rods set up one with a method feeder and one with a running egg sinker rig and throw tem out everything is a go by 7:15pm.
At 8:00 pm the first run of the night and a big swing and a miss for me on the hook set. Oh well rebait and give it another shot.
8:30 or so another run happens and a good hookset and the fight is on. 8# fish on the egg sinker rig.
We had a good size group of gawkers around so i did my best to get the fish back in the water and the rods back in ASAP otherwise they talk your ear off when your trying to work. We ran into a family from france and sat and talked to them for a while. As we were talking the egg sinker rig goes off again and i set the hook. Knowing it was a good fish I handed there son the rod and gave him some basic instruction. His brother shows up and they tag team the fish to shore after a good 10 minute fight. They were sooooo exited. We took some pictures and sent the fish on its way.
8:45-9:30 I had 3 more runs one of which I got another 6-8# fish the other 2 well it didnt turn out so well for me.
9:55 the same rod takes off and it was a duzzy... The hook sets itself and the fight is on and he pulls off 50 yards of line in a hurry. all of a sudden SNAP.... He was gone the main line broke.. must have been a rock or something...
We fished for another 45 minutes and nothing went.
So we called it a night after sitting and listening to the band at the resturant next door and catching a few fish.
Highlights of the night are
-The french family
-catching some fish
-getting to listen to a decent 4 guy band singing all kinds of good songs
-trying a new bait and it working. (Old fashion oats/bird seed method balls and then a small ball over the hair corn)
The downsides
-lost a big fish
-method feeder rod didn't take a hit???
-Found out were my bait was going when i was not paying attention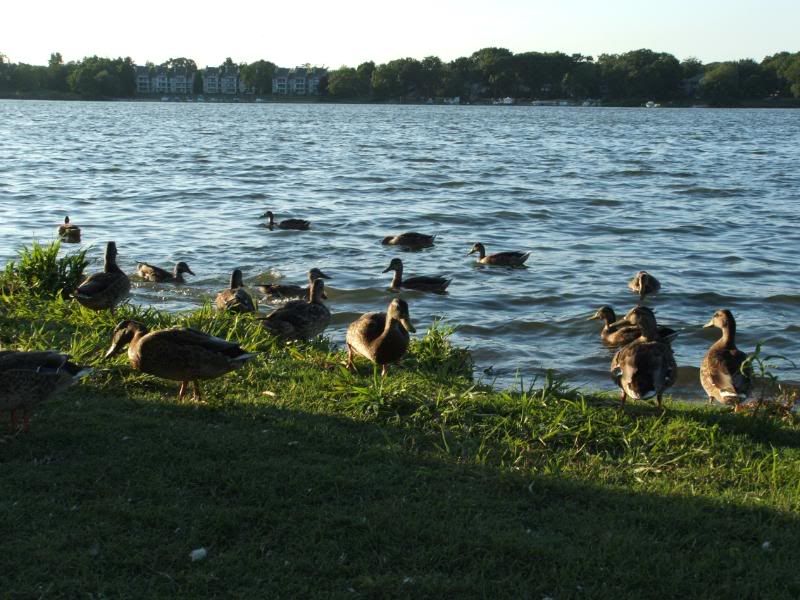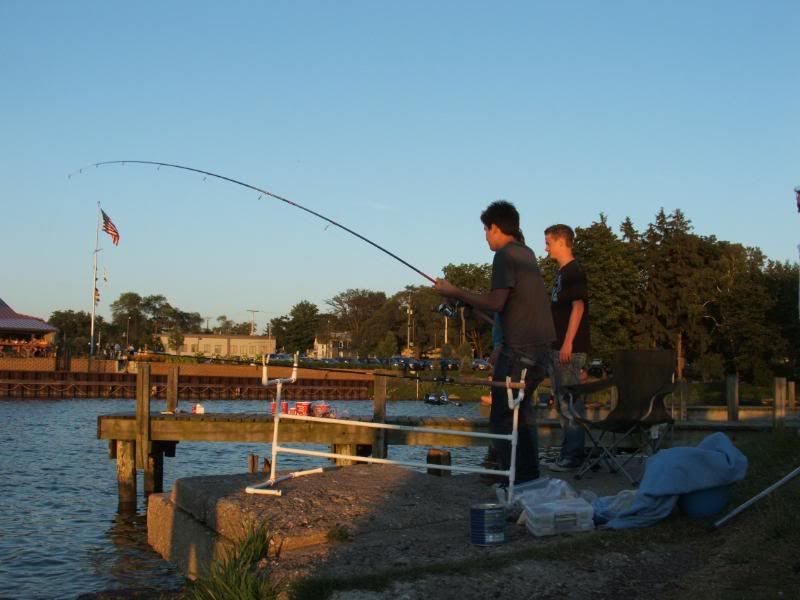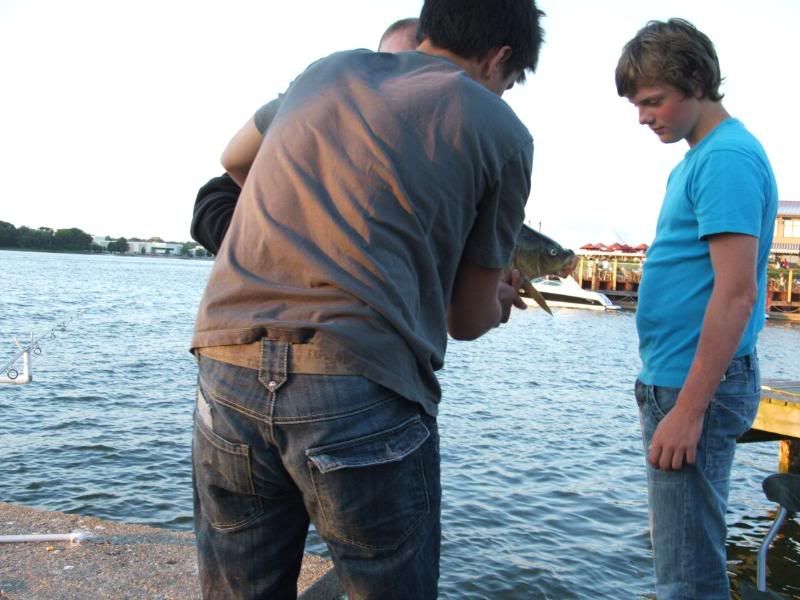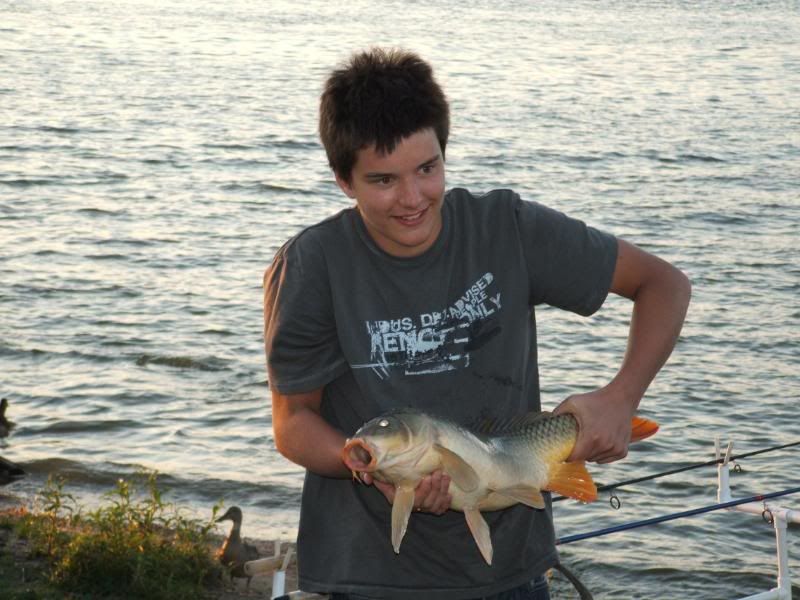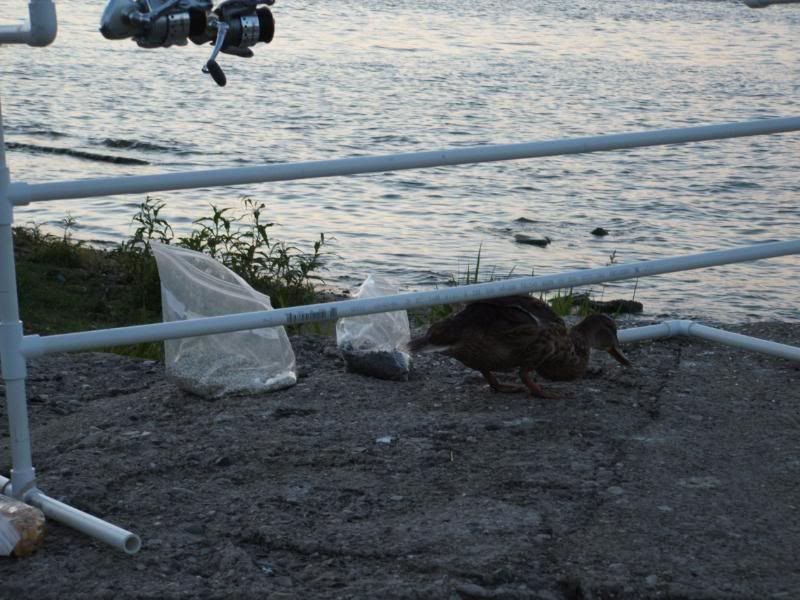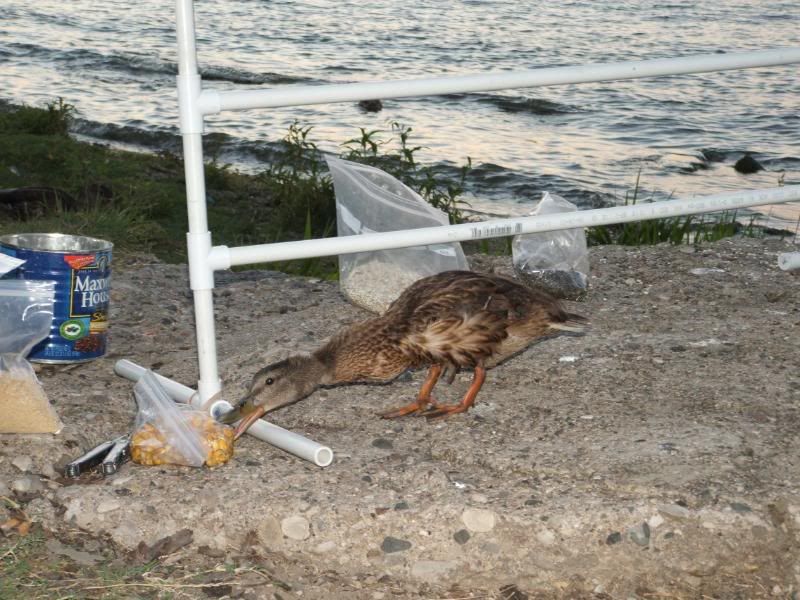 The energizer bunny failed me so I didn't take alot of pictures.
Please note the duck trying to steal my bait!