Discussion Starter
·
#1
·
:lol:
Well, this is a picture of a button buck copulating with a doe fawn last night. They spent about an hour in and around the brassica patch. At one point, he came up to her and mounted her. She was very receptive and he appeared to achieve penetration. It lasted about 10 seconds or more while I fumbled for my camera which was behind me on my ladder stand. By the time I found the camera, he had dropped and they turned and he remounted, so I did not get a good broadside shot. Again, she was quite receptive. The second photo is a closeup, which it turns out was a bad idea because it came out so much darker. She was panting with her mouth open. I actually wondered if she was going to pull out a cigarette. He, like most guys, just nonchalantly wandered off and started browsing.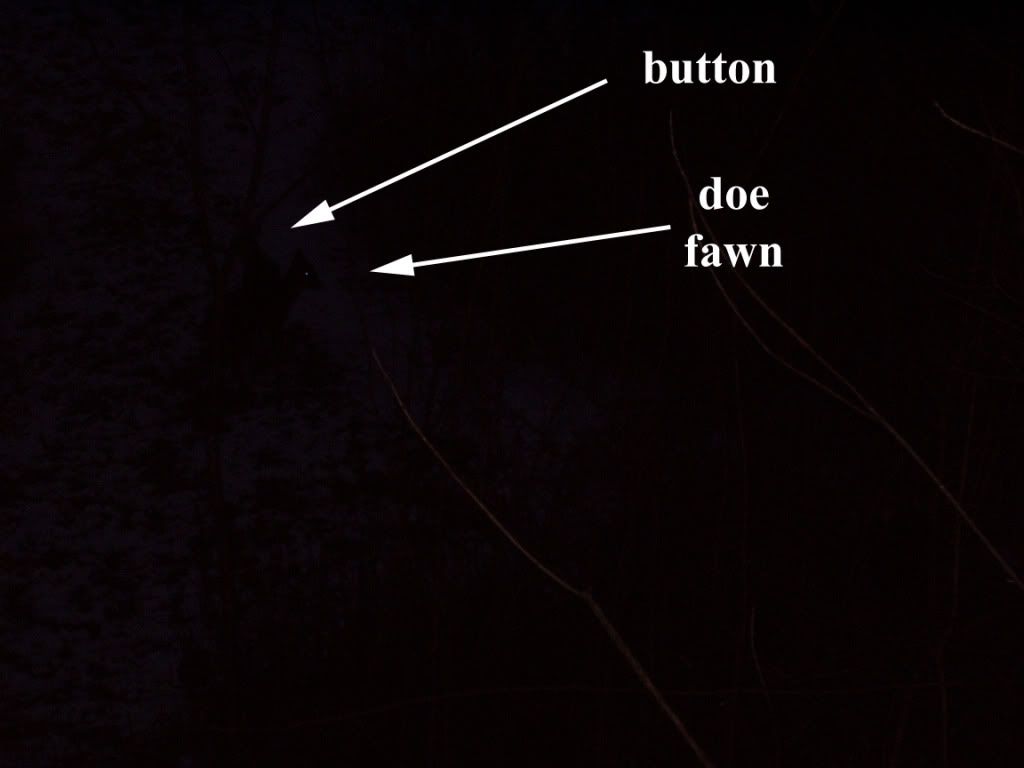 Each of these deer is pushing 100 pounds. I have no doubt that they are both capable of successfully procreating. I think the fawns are larger this year than most because there is so much standing corn available to still. In environments where deer can grow to this size, and I am sure I have not seen a single fawn since the beginning of November that was less than about 70 lbs., they are very much a part of the breeding group in this area, and highlight how incredibly important it is to keep at population control. I thought about shooting her but prefer to wait for a heavier one. Plus I did not want to disturb the location where I saw 4 bucks in and around the same food plot a few days ago.
Interesting behavioral note. When these two first came into the food plot, he spent about a minimum of 5 minutes aggressively chewing on a survey flag for a pond site that was about 18 inches off the ground. I mean, I thought he was going to eat the wire. About 20 minutes later, with him and the doe fawn in the food plot area, another button came down from the woods. He appeared to be larger than the first. When he got about 10 yards from that flag he went stiff legged. Clearly spooked and remained spooky for the next 15 minutes or so. He wanted nothing to do with that other button buck. This was in a spot about 100 yards from a location where I saw two button bucks sparring about a month ago or more. The first one was with a doe fawn, when the second one came up, he went up on his hind legs, and they both ended up thrashing at each other with their forelegs. The one with the doe fawn drove the other one away. He followed them from a distance back into the woods, where the more dominant button got his comeuppance from a 1.5 year old 6 or 8 point.
These fawns are already developed enough in this food rich area to create a breeding hierarchy, and to successfully breed. By the way, if he is not capable, there are certainly plenty of older guys in the neighborhood who can do the job, and probably have already added their 2 cents worth to her uterus.