Got into town around 3:30PM on Friday. Flag was barely moving which was nice for a change. Myself and a few of my dockmates decided to spread out and see who could find the most action. We went North and we should have went South. Sounded like it was an all out Mai Lai down there.....and their coolers showed it at the end of the night. We got into a few fish North working the 100-140FOW line. Moonshine Dancing Anchovy RV on a 300 copper continues to steal the show. Green Bumble Bee on the 200 copper, custom orange spoons on short cores for Steel and Moonshine Mongolian Beef RV and Crabface on the riggers down 70-90. Finished Friday night at 7 for 9. Released a few small Kings and some Steelhead. 2.5-2.8 on the GPS....direction didn't matter.
Had some friends come into town to fish Saturday evening. Sounded like the fishing was good in the morning. Left the dock at 4:30PM and headed South. Sat down in 120 and started trolling West. Got to 160 and started making a turn South when the 300 copper with the RV Dancing Anchovy started singing. Nice King about 12lbs. Continued to zig zag on a SSE heading with a steady pick. 150, 200, 300 coppers were taking hits as well as the 2 and 4 color rods. Took some nice Kings up high on the short cores. Had two separate thermos going while out deep.....10-40 down and 80-120 down. Once we got into about 140FOW the upper thermo vanished. Had several doubles including one while we were pulling rods after dark. Finished 14 for 18 with 2 Steelhead, 2 Lakers, and 10 Kings. Had quite a few drive buys....I counted something like 24 bites overall. 2.8-2.9 seemed to draw more strikes as the night went on. It was never hot and heavy but very consistent. Some great sky color with calm seas and steady action......tough to beat.
Here's the highlight reel.
The wife with a post spawn bullet.
Nice short stocky King.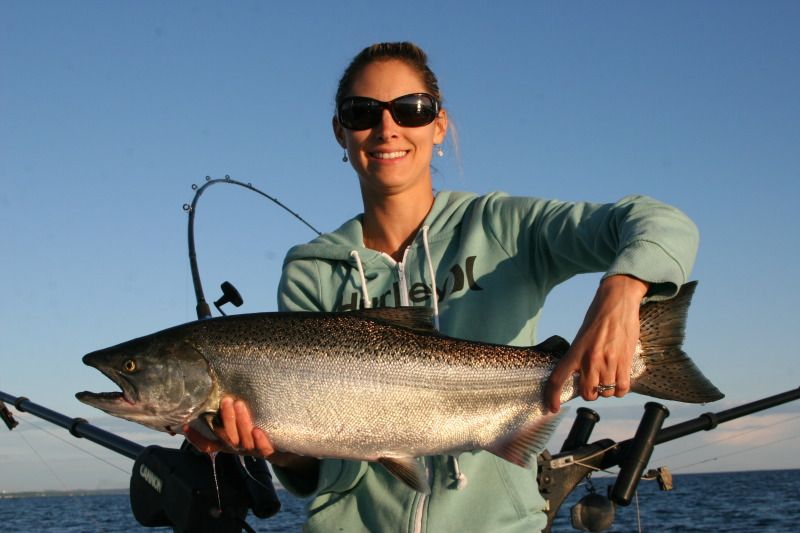 Steelhead release.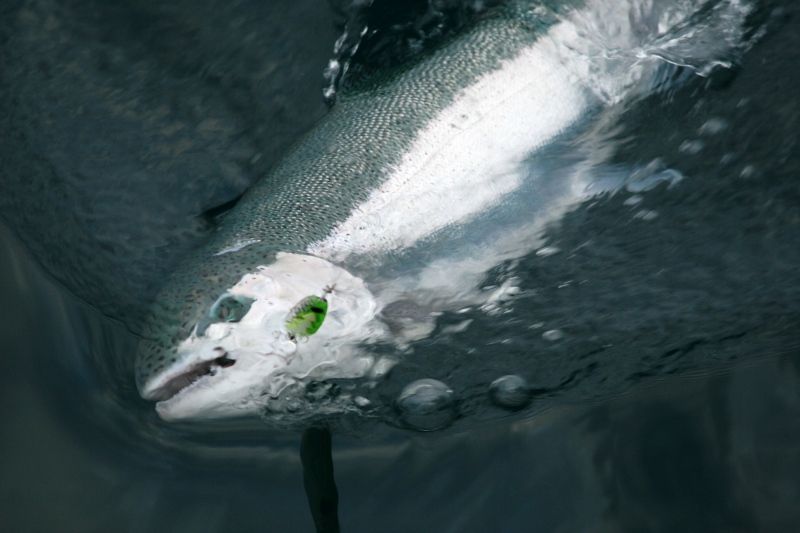 Joe with a nice King.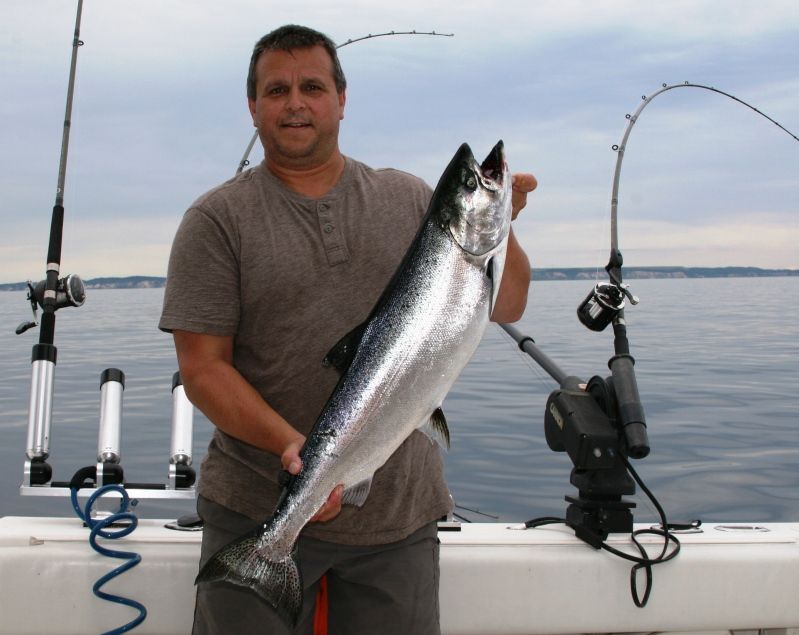 Sue's first Lake Michigan King and the biggest of the night.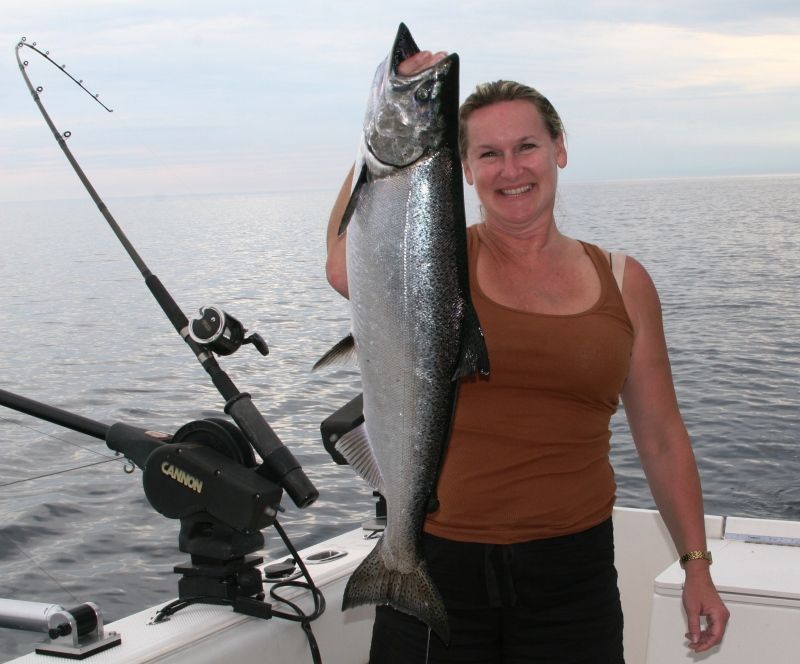 Joe and Sue on a double.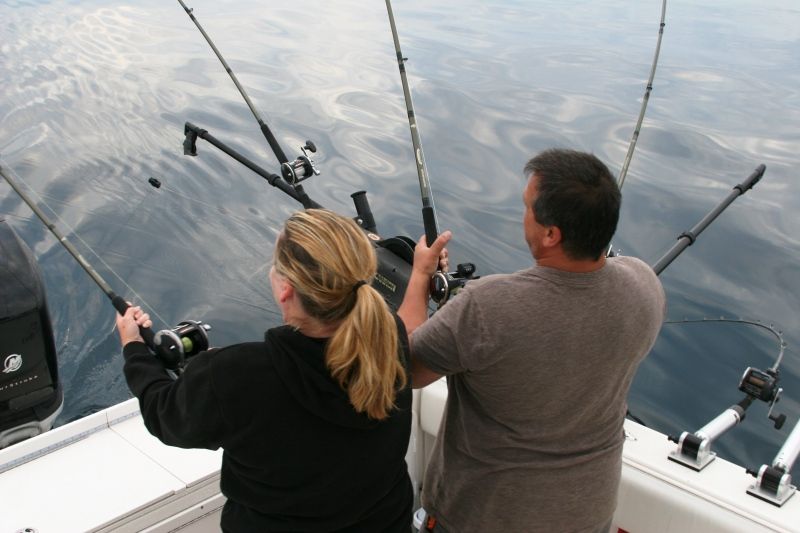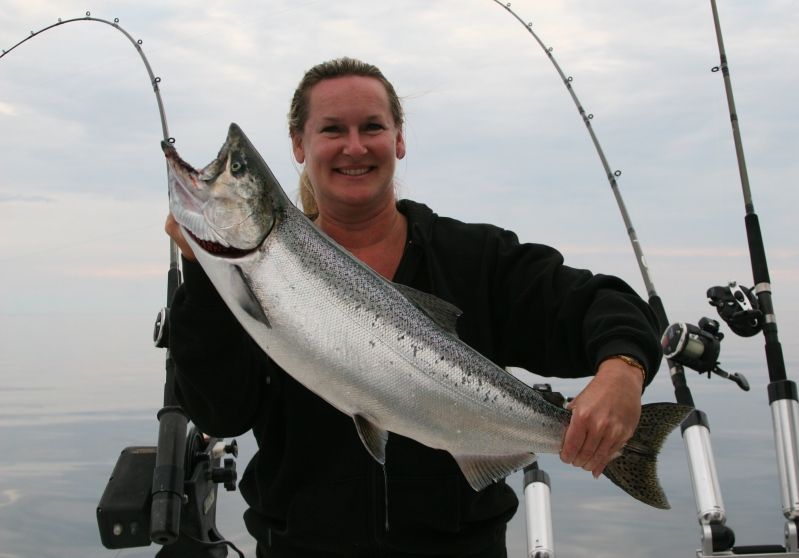 Ladies on a double while pulling rods.