Alaska Trapping – Living the Dream
Alaska Trapping – Living the Dream
 By David G Duncan
 Klutina River Valley with Mt. Drum of the Wrangell – St. Elias Mountain Range in background.
——————————————————————————–
The Alaska Trapping season for fox, pine marten, etc. opens each year on the tenth of November, which definitely ensures all furs harvested will be of high quality and well primed.
After over 50 years of trapping in my home state of Michigan, I was finally getting a chance to live my life long dream of spending a winter on an Alaskan Wilderness trap line.
This trapper's dream experience came about, when I had the opportunity to work in Alaska on a short assignment at a local utility.  After my work assignment was completed, I convinced my wife to let me stay on, to live out the winter with a wilderness trapper, by the name of Brad Parsons.
Brad and his dog Ginger, live in south central Alaska near the magnificent sportsman's paradise by the name of Lake Louise, one of Alaska's largest lakes.
Brad built his cabin on a knoll overlooking a small lake on a 20-acre parcel.  Being close to the lake is both scenic and practical, since it is his main water supply.  At least until the ice gets too thick, at which time he switches to melting snow on his wood-heating stove to get all his water.
His cabin being off the grid, without indoor plumbing and heated by a supply of dead wood he cuts from the surround forest of Black Spruce, matched my image of a true wilderness trapper's home.
I had to tease Brad about the pastel color he picked to paint his cabin.  I asked him,  "Did you pick this pastel color as trapper's attempt to catch the interest of a potential wife".  He just laughed and said, "It would be nice to have a wife, but actually the paint was the cheapest paint I could find".
The first winter I spent in Alaska working, Brad was generous enough to let me tag along with him on his trap line.  His trap lines consist of over 170 miles of trails, which he navigates by snow machine.  His trapping efforts concentrate mainly on Pine Marten, Fox and Lynx, with a few Beaver, Muskrats, Mink, Otter and Ermine thrown in for good measure.  In some years he also targets Wolves and has taken over a dozen with one huge male that tipped the scales at 167 pounds.
Brad's photo of me making a fox set on his trap line the first winter we met.
During the 14 years Brad has lived in Alaska, after moving from Wisconsin, he has never caught a Wolverine.  The far wondering wolverine do occasionally leave their tracks along his trap line, but they are only passing through, on their travels between four mountain ranges that surround Brad's trapping territory.  Wolverines are big time travelers and cover a large area, with their main center of operations being in the high mountains near permanent deep snow and glaciers.
The fact that Brad had never caught a prized Wolverine may have tipped the scales in my favor, when I suggested that we might team up on a trap line to target Wolverine.
So, when I questioned Brad on where a trapper might go to target Wolverine he pointed to the mountain range to the south of his cabin and said: "See that high mountain valley?  There's a lake named Kaina up there, fed by a mountain stream, with beaver the size of small bears.  This lake is so remote it has not been trapped in many years.   There is bound to be a lot of wolf and wolverine in that valley."
View of the Chugach Mountain Range in the distance.
Brad went on to tell me that on a couple of prior occasions he had planned trapping trips to this high mountain valley, but his partners had always backed out on him.  I assured him that if we were to plan a trip to Kiana Lake, he could bank on the fact that I would follow through with the plan.   He had my word as a trapper.  So the first step of realizing a trapper's dream to catch his first wolverine was cemented with the handshake of two trappers.
The Kiana Lake area is located on the north slope of the Chugach Mountains, but on a clear day our destination could be easily seen find Brad's cabin.  My new trapping partner went on to explain that getting there would present some real challenges.  If a trapper were to try to travel there more or less as the crow flies from Brad's cabin he would have to cross a lake, which never freezes solid even in the dead of winter, due to springs.  And if we tried to make your way around the lake next to the Chugach Mountains, it would require traveling through ice fields at the base of a large glacier, which would be extremely difficult, if not impossible to do with heavily loaded snow machines.
But Brad did have a plan, which entailed traveling by road to the Cooper Center area.  Then we would drive our snow machines down an established 30-mile long trail to Klutina Lake.  Once at Klutina Lake, we would have to find the trail to Lake St. Ann.  At that point we would have work our way through a mountain pass to reach Kaina Lake.  There was one small problem; he had never traveled in that area, so he was not sure of the condition of the trail between Klutina Lake and Kaina Lake.  It could well be overgrown and impassible for snow machines.  Cutting a new trail for our snow machines was not an option for us, but we agreed to give finding an existing trail a try.
Putting together the plans for an expedition into a remote wilderness area, where small mistakes in planning could lead to real survival risks, got me to thinking how the great Antarctic explorer Ernest Shackleton must have felt as he planned his 1,500 mile hike to the south pole.  Well, I don know that most of the Antarctic explorers made it back safely and they did not have modern snow machines or an experienced Alaskan trapper along on their adventure.  So I was sure I had nothing to fear.
I had arrived at Brad's cabin in early October, with two new snow machines and a lot of trapping equipment.  Our plan was to use Brad's 10-man squad tent as our base camp at Kiana Lake.  So Alaska Trapping  Part 1.docxI thought it might be a good idea for me to live in the tent prior to our high mountain trapping adventure, just to make sure there would be no surprises related to its ability to protect us against the 40 and 50 below zero temperatures.   We would be relying on this tent for shelter during our several week stay at Kaina Lake.  So for the next month I would call this tent my home as the temperatures steadily dropped from lows of 20 deg. F. to zero and below.
My tent home during the month of October 2010.
All our MB750's wolf traps hang ready on the side of woodshed, along with a supply of wolf snares.
I had experiencing several first time experiences already during my first few weeks had lived with Brad.  Brad prepared us meals of delicious grizzly bear roast and steaks from a fresh killed caribou.  Now, with trapping season fast approaching I was looking forward to adding Lynx to my list of wild Alaskan meats I have eaten.  Brad tells me it tastes just like fine pork.  Well at least that is a switch; he did not say it tastes just like chicken.
Temperatures at night are getting down to near zero and we already have about 6 inches of fresh snow.
Brad took me on a 10-mile hike on one of this trap lines near his cabin.  I had the distinct feeling; the hike was probably more to checkout my stamina and ability to withstand the rigors we would be facing during our upcoming Kiana Lake adventure.  I am sure he must have been more than a little apprehensive as to whether a 66-year-old Michigan trapper could handle the extremes of a high mountain deep snow trap line.  Brad carried his Marlin .444 just in case we saw a caribou.  We did not see any caribou on this hike, but we did see an old grizzly den site.  Fortunately no grizzly bear was at home, thank goodness.
Trapper Brad and his faithful dog Ginger.
A sunrise as viewed from the window of Brad's Cabin.
The temperature was 14 deg this morning and 30 deg inside my tent, but the inside temperature quickly rose to a very comfortable 50 degrees, after I added some wood to the stove.
Brad let me know, that in order for us to catch lynx; we would first have to catch a bunch of snowshoe hares.  So, I put out a short snare trap line near Brad's cabin and started piling up the lynx bait.  If a hare were to keep their eyes closed they would be invisible.  They definitely have a great survival defense in their almost perfect camouflage!
With the opening of trapping season only a few day off, we felt it would be a good idea to make an exploratory trip to Klutina Lake, mainly to see if we could actually find the trail to Lake St. Anna and Kiana Lake beyond.  So, we loaded up our snow machines and along with part of our trapping supplies and plenty of 5-gallon cans of gasoline to be stashed at Klutina Lake.  Early on the following morning we made the 50 miles drive southeast to our jump off point at the trailhead leading to Klutina Lake.
Our snow machines loaded at trailhead ready to leave on the 34 mile trip to Klutina Lake.
Brad hunches his shoulders to conserve body heat, as he greets the morning -20 temperature.
We had found fresh tracks of a pack of three wolves running along the shoreline of Klutina Lake and plenty of lynx tracks, as darkness caught up with us.  So, we decided this would be a good place to pitch our tent and set up our spike camp.  For lack of a better definition, a spike camp is a small tent with no heat, so good sleeping bags are essential.
The next day was opening the trapping season and we hoped to make some wolf, wolverine and lynx sets in the morning, before we packed up and headed back to Brad's cabin to prepare our gear for the big push to Kiana Lake.
Breakfast consist of strong coffee and warmed up caribou stew left over from our supper meal.  We broke camp and stashed our extra gasoline and traps at this location, prior to driving our snow machines further down the shoreline of Klutina Lake.  Brad was in the lead and I followed pulling our cargo sled with trapping gear.
We did not get more than a few 100 yards before we cut the trail of the wolf pack leading into the thick woods bordering the lake.  Brad instructed me on how to make some foothold sets, with our MB 750's in these wolf trails and I took charge of hanging some wolf snares.  Brad was not a big user of snares, but with some urging from me, he ended up discovering the advantages of making snare sets for wolf and fox.  I had snared coyote and fox back in Michigan, so it was logical for me to take this lead in hanging our snares.
To our great delight, we had to only travel a short distance further before, we located the fresh tracks of a wolverine.  The wolverine tracks ran along the shoreline and then crossed a small stream, before heading into the woods.  We made a set at the stream crossing and took note that this would be a good location to put one of our baited 330-conibear bucket sets on our return trip.
More foothold traps and snares were set for wolf and lynx as we made our way further along the shoreline of Klutina Lake.  It was clear that another trapper had a trap line along the lake based on the Pine Marten boxes we found on the sides of pine trees at the edge of the woods.  In Alaska trappers do not have registered trap lines, but all trappers respect the each others established trap lines, especially those where a trapper has expended considerable effort in clearing and maintaining trails.
Since we would not be spending all winter trapping this line, we were confident that if another trapper did lay claim this shoreline as his established trap line, he would not be too upset with our brief stay.
At the end of a long day of setting traps we made our way back down the 34 mile trail to the where we had parked the truck to load up the snow machines after dark for the drive back to Brad's cabin.
We spent the next few days putting the rest of our gear together to establish a base camp on Klutina Lake.  Brad also set lynx traps on his south line near his cabin and immediately started to harvest lynx.  Yes, I have to agree with Brad, lynx meat is delicious and tastes just like pork!
Brad and an Alaskan Lynx.
I knew the paws of a lynx were large and allowed them to walk easily on top of deep snow, but I did not realize that they were this large!
Trail to Brad's cabin after fog morning at -25 degrees.
We load up our snow machines and three cargo sleds for the return trip to Klutina Lake.  I would be pulling two cargo sleds and Brad would pull one cargo sled and break trail ahead of me.
The trip to Klutina Lake was basically uneventful, if you ignore the fact that I had a wreck that tipped over one of my cargo sleds spilling it's contain along the trail for 100 feet.  And oh ya, my brand new snow machine developed an oil leak that emptied the oil injection reservoir.  Neither event slowed us down much, but now I will have to premix oil in the gasoline for my snow machine.
Base camp at Klutina Lake.
We shoveled away the snow and erect the 10-man squad tent in a small clearing just inside the tree line along the shoreline.  It is a cozy home and the wood stove keeps the inside about 40 degrees above the outside temperature.  So, we sleep with the temperatures in the 20's when the outside temperature dropped to -20.
We had a couple of days of sunny weather during our first stay at the Klutina Lake camp and were treated to some most spectacular sunsets.  This photo does not do the real "live in-person" view real justice.
There were plenty of lynx tracks along our line, but so far we have only able to pick up two well-furred lynx, but we had high hopes of find more in our sets on future checks.
The first lynx on our Klutina Lake trap line.
Another beautiful prime lynx.
The Klutina Lake trap line adventure was truly a trapper's dream come true.  Living in this beautiful wilderness for these few weeks has been the fulfillment of a life long desire.  We did not harvest a lot of fur with only five lynx taken and no wolverine.  But, we did manage to harvest a beautiful mature black wolf.  This was the large wolf that left track near our spike camp.
Trapper Brad and the Alpha Female.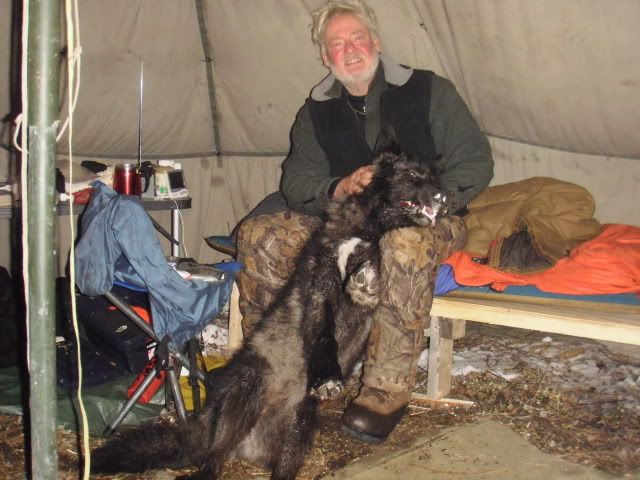 A grizzly old trapper and an Alaskan wolf.
This is a good place to end this great adventure.  In a future article, I will tell the story of my adventures following Brad on his regular trap line and living through an Alaskan winter in a trapper's cabin.
For those who maybe interested in reading all 33 of my original blogs, here is a link to the site that contains these daily blogs:
https://www.michigan-sportsman.com/forum/blog.php?u=252&page=4